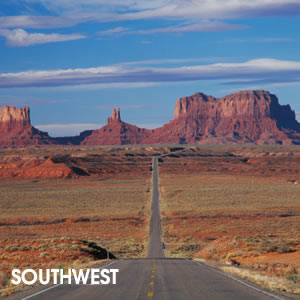 Southwest
The Southwestern states welcome visitors with a host of versatile travel options: wide open plains, rich forests, bustling cities.
For family fun, enjoy camping, hiking and horseback riding at Ouachita National Forest—or visit Acadia Lake for a host of water sports.
New Orleans is a feast for history buffs, music lovers, and culinary fans alike! And Texas—with Dallas and Houston, coastal Galveston, Big Bend and Guadalupe Mountains National Park—can satisfy your yearning for everything from the rustic to the urbane.