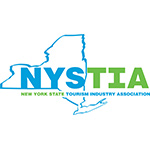 With 11 geographically diverse vacation regions, New York's world-class tourism destinations welcome visitors who come to enjoy the beauty and wonder of our great state.

No other state offers the array of dynamic settings, from awe-inspiring city lights to high mountain peaks, sandy beaches, scenic lakes, world-class fishing and outdoor adventure, and world-renowned wine and craft beverage trails. Hike, bike, paddle or boat all or part of the 750 mile Empire State Trail.

A record-high 265.5 million visitors enjoyed New York State in 2019, why not make your plans for 2021 now?